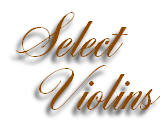 Select Violins © Copyright 2007.



Wonderful French violin by the Leon Mougenot workshop!
Made in 1925 at Mirecourt for Paul Beuscher.
Paul Beuscher had the Leon Mougenot workshop make violins under his name. This one is a superb example of a Mougenot workshop violin. It has a one piece maple back with dynamic antiquing on the whole violin. This violin is a delight to look at and play.
The violin is in excellent condition with only one repair. There is one repaired saddle crack that is glued and cleated. The varnish is in very good condition.

MORE INFO AND RECORDING WILL BE COMING SOON!