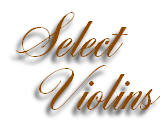 Select Violins © Copyright 2007.



Amazing 1928 "Gemunder Art" violin by Oscar A Gemunder!
The "Gemunder Art" violin was designed by his older brother August Martin, born 1862. They both worked in their fathers workshop in New York. The following is from Henleys description of August Gemunder's Art violin.
This 1928 "Gemunder Art" violin is in wonderful condition. The only thing that has been done to it, is the top has been French polished.

Notice the unusual grain in the scroll.
MORE INFO AND RECORDING COMING SOON.