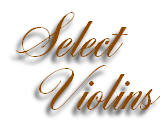 Augustin Chappuy Mirecourt 1770 circa
Select Violins © Copyright 2007.



1770 c. French violin - Augustin Chappuy

It has three repair labels dating:
1818 Lyon France, 1929 New York, & 1951 Dallas.
It does not have a Chappuy label. Below you can see an example of a Augustin Chappuy with our violin below it for comparison. Strikingly similar!
We are delighted to offer this wonderful Chappuy violin. It is hard to find affordable violins of quality from the 1700s. This example has a fine even grained spruce top and very nicely figured maple back. The varnish is a warm, light, golden-brown.
This violin has been lovingly cared for in its times of misfortune, as is seen by the three repair labels. The top has had several repaired cracks, the most remarkable repair being the sound post patch. You would never know there was a sound post crack from the outside. The back has a button graft. The neck has been grafted in, to transform it from a baroque, to modern set up. The violin is now ready and waiting for you.


MORE INFO AND RECORDING COMING SOON.