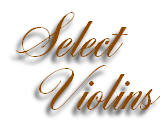 Near Perfect Condition 1925 Heinrich Th. Heberlein Jr. Violin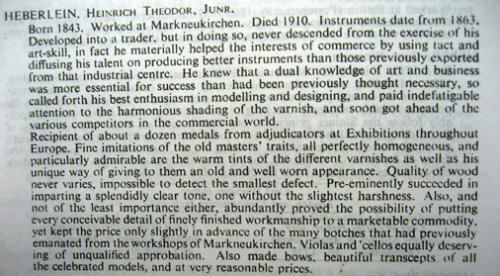 Mention the name, Heinrich Th. Heberlein, Jr., and most knowledgeable violinists immediately recognize it as that of one of the most distinguished of all violin makers of his era. Heberlein violins are renowned for their excellent workmanship and their remarkable sound. Historically, these instruments have been sought after by collectors because of their exceptional value. Consequently, Heinrich Th. Heberlein, Jr. violins are considered a wise financial investment. In some markets, these violins are priced as high as $8000.
William Henley in his: "Universal Dictionary of Violin & Bow Makers" writes:
MORE INFO COMING SOON








A true mature tone of very good quality, is what this violin brings forth. This violin is not mellow or bright, but the perfect balance. High notes sing and project, the low notes are full and warm. It is very forgiving and easy to play.
Select Violins © Copyright 2007.