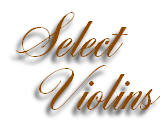 Beautiful Antiqued Violin With Birdseye Maple & Double Purfling.
Violin #5147

This violin has beautiful, hand-carved corner medallions. Fine, even-grained spruce top. Extraordinary European birdseye maple, back and ribs. Beautifully antiqued, rich color. Very striking, double purfling. Excellent quality, aged tonewood. Masterfully made in China. Set up with Pirastro Tonica strings.
The sound of this violin is as beautiful as the instrument itself. Clear, leading tone, abundant dynamics, and nicely balanced. Although this recording doesn't do it justice, listen to it, and you will agree that this is a wonderful violin, one that you'll want for your very own!.
Select Violins © Copyright 2007.