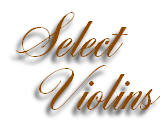 Select Violins © Copyright 2007.



The violin is set up as baroque. The string length is 314 mm., the modern standard is 328 mm. It has a baroque bridge and neck with a 50 mm. radius. This flatter radius makes it possible to play three strings at the same time, enabling the musician to play cords. The baroque tailpiece is designed for use with gut strings. The G string is gut core with silver wrapping. The tuning pegs are also of baroque design.

The back has no repairs but it is sunken on the lower bout base side. The top and ribs have many repaired cracks. It has a neck graft that is very hard to see. The neck was replaced with a modern neck and block, but you can still see how the back was carved for the original neck that went through the body. There is a repaired sound post crack, as one would expect on a violin this old. It has been repaired, with an oak veneer patch.

The sound recording will be coming. The recording below was from before it went through its baroque transformation.
Very Old Baroque Violin Labeled Josephus Pauli 1722.
I am of the opinion that Joseph and Josephus Pauli are two different people. Josephus is a different name, not a variant spelling of Joseph. This violin could very well have been made in 1722. I would not be surprised if the label is correct, although it cannot be ascertained one way or the other.