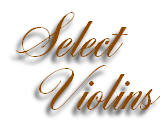 Select Violins © Copyright 2007.



A fine example of the exceptional work of Amedee Dieudonne!
1928 - No. 22 made in Mirecourt
The 1928 Amedee Dieudonne violin has been of service for many years. It does have two repaired cracks. One repaired saddle crack that is cleated and stable on the treble side. The second is a small repaired crack on the upper bout base side.


MORE INFO AND RECORDING COMING SOON.