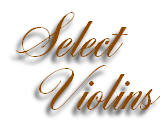 Fascinating very old violin with grafted scroll.
Francesco Ruggieri 1680, written on repair label.
Top and repairs by E. F. Bryant, Boston, Mass. 1910
This violin is easily over 200 years old, with the top dated at 1910. The Ruggieri model was copied by other makers and this is most likely a very old copy. Please inspect the detailed photos closely. Take special note of the beautifully carved scroll and rich varnish on the back. The grafted scroll is indicative of a violin that predates the early 1800's. It is a valuable antique worthy of the collector's consideration.
Select Violins © Copyright 2007.



Bryant is a well-known name among Boston's violin makers. The most famous was Ole H. Bryant, the son of Charles Henry Bryant, who was also a violin maker. E. F. Bryant was the uncle of Ole H. Bryant.
The violin has had many repairs throughout its long years of service. All appear to be stable. There are no sound post or base bar cracks. Please look over the photos closely, as they are the best record of what has been done. The violin is ready to play and set up with Dominant strings with a Gold Evah E string.


Total length 23 ¼ inches - 590 mm.
Length of back 13 7/8 inches - 353 mm.
Upper bout 6 7/16 inches - 162 mm.
Lower bout 8 inches - 203 mm.


The tone is pleasant and bright with good projection. Listen to the recording for a sample of its tone.